Another recipe steal from the blog
Make and Takes
This looks yummy to me....
Well, these Mini Meatloaves in a Muffin Tin are perfect for dinner served with little mini carrots and baby asparagus!
This idea came from the magazine Kraft Food & Family. I subscribe to their quarterly magazine and it's FREE! It has great easy recipes with lots and lots of pictures (every recipe book needs pictures!) They do advertise using almost all Kraft products, but I just use whatever I've got at home already.
Mini Meatloaf Recipe:
Favorite Meatloaf recipe
bbq sauce
salt & pepper
cheese - cheddar, or something stronger would be yum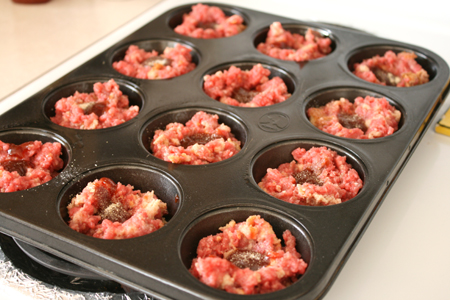 Spray your muffin tin with cooking spray. Place in a handful of prepared meatloaf into each muffin tin. Press your thumb into each meatloaf ball, making a space for toppings. Squirt a dollap of bbq sauce into the space and salt and pepper. Bake in a pre-heated 375* oven for 30 minutes or until cooked through (160F). Add your favorite cheese and bake for another 5 or so minutes.
Now serve these on a mini plate on a tiny table in your smallest room with your cutests kids and enjoy!